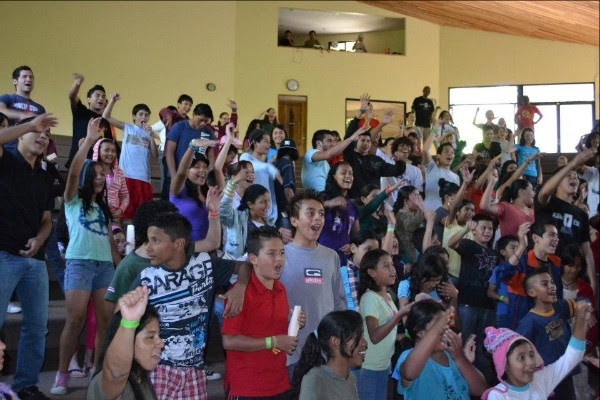 A little about Camp Carpio:
It's no wonder our kids love to RUN.
La Carpio – the only home they've ever known – is a crowded, isolated community on the outskirts of San Jose, Costa Rica. More than 35,000 people inhabit a strip of land flanked by two rivers and a gravel quarry. Families (often including multiple generations) are squeezed into tiny dwellings made of corrugated tin or simple concrete block.
Even the streets offer no place to play, as garbage trucks pass through constantly, taking a daily 700 tons of garbage to the municipal dump at the far end.
We praise God every day for our tiny oasis of grassy fields in which they can run freely… and begin to understand a new kind of freedom life in Christ.
Hundreds of youth pass through Project Renuevos every week to take advantage of the recreational, educational and vocational options offered by Christ For the City International. Project Renuevos teaches these at-risk youth a new way of life. We encourage them to RUN away from alcohol, drugs and gangs, and ultimately toward Jesus Christ.
"I run in the path of your commands, for you have set my heart free" (Psalm 119:32)
This spiritual race that we are running is a marathon, not a sprint. And it is vital for all our youth to go on a retreat once a year. At January Camp, we put everything aside for 4 days, to focus our eyes on Jesus Christ. Away from La Carpio, away from their dysfunctional families and the daily grind of poverty, the campers open up to the counselors. Secrets are revealed, struggles are released, questions are answered, and hearts are set free.
You have been faithful witnesses to the work of Project ReNuevos, and we are so thankful for your ongoing support. We need you more than ever now. We need praying partners to lift up the leaders and campers. And we need financial partners to continue making January Camp a reality. Would you, your family and your church join us by partnering with Christ For the City International to sponsor a child (or two or three)?
Just $100 will offer a new way of life to one of our campers.
Come, be part of the renewal that is taking place in La Carpio!