Today's blog post comes from
Jessica Carter
, our missionary in La Carpio, Costa Rica:
In my mind I still go back to Spring Break of my freshman year of high school, the year I stepped on to a plane for the very first time in my life. I was headed to Costa Rica and little did I know that trip would change my life forever. I fell in love with the beauty of Costa Rica. I experienced God's love in a whole new way and I fell in love with a new culture. Ever since, my heart longed to return to this beautiful country. I never would have expected that a short eight-day trip could open my eyes to missions and the way God desired to use me. I remember coming here with the intention of saving the world, but what happened was God transformed my heart and world for His vision. I left changed, something I never expected.  I didn't save the world. Instead, God planted a seed in my heart for serving Him and it left me longing for more.
Looking back to that week in Costa Rica, I never would have imagined that I would be on the other side; now I'm the one leading a short-term team. A few weeks ago, I had the privilege of leading the Roberts Wesleyan Nurse team from New York. The team was amazing. They ran five health fairs in various underprivileged communities and touched more than 935 people.
It was a week full of laughter, joy, dance parties, and love. My favorite part was stepping back and watching as this group did their thing. Even in the simple acts of taking heights and weights, blood pressure and blood sugar, or teaching on parasites, vitamins, and dental hygiene, you could tell there was something greater being shared. The love of Christ radiated out of each team member. Even with the language barrier, their love transcended the language.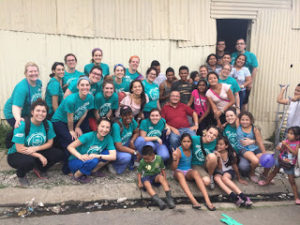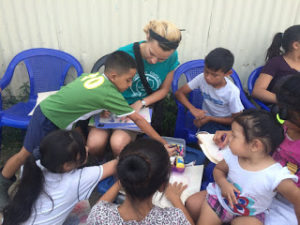 New York, watch out for this crew of fun, energetic, and loving nurses that are headed your way! The patients won't only receive excellent care but a love that only comes from God. I was honored to be a part of your team last week. You taught me so much and reminded me that even in a mundane task that you perform everyday… God can be in the center of it all. It's a decision we each have to make, but a decision that can change another person's world forever.
It has been about a month since I finished up language school and it's been a roller coaster of a journey. I have officially written and applied for a grant from the US embassy here in Costa Rica (praying God opens doors), led my first short-term team, survived several volcanic eruptions, and started a number of programs in Renuevos. Everyday has looked a little different and continues to push me beyond my own limits.

As I walk in faith, I have to remind myself not to fear. It is so easy to get caught up listening to what the world tells you and the lies that slowly creep in. When fear strikes, I will remember that, "The Lord is my helper; I will not fear. What can man do to me?" (Hebrews 13:6)
The afternoons have become my favorite part of the day. Renuevos is full of youth showing up to hang out, study the bible, and play lots of soccer. There is a group of 6 or 7 guys that started coming three weeks ago and has now grown to about 15 guys showing up regularly for our program on Thursday afternoons. On Fridays, a group of girls are coming along with this group of guys. I am excited to start a girls soccer team with this crew. I am thankful for Alvin and Chio, my bosses in Renuevos, and for their constant encouragement as they challenge me to go beyond myself and to dream with God's eyes.
I am only one month into full-time ministry and I absolutely love my job. It hasn't been easy and everyday is an adventure of its own, but I am excited for what God has in store. Though there are days I am worn out, sick, exhausted, or overcome by fear, I will remember that God is my helper, I will not fear.
Please join me in praying for the youth that I am working with and for my health (I have been sick several times this last month). Thanks for the constant support and would love to hear more about you!
Bendiciones!