I hated the fact that I worried that day. I hated the fact that I clutched my expensive, prized equipment to my chest.
I passed teenage boys who sat in huddles on the street corners and blew me kisses as I passed, and children who kicked (and lost) a punctured soccer ball up and down the steep stairs. And then there was me, making my way down to them, into the depths of the slum, with my phone, my notebook and my camera.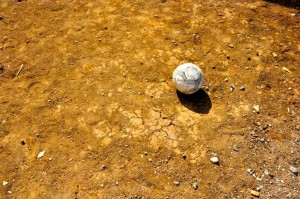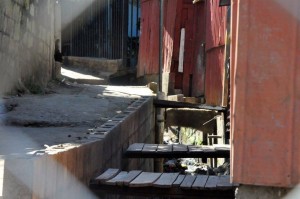 It wasn't the first time that I have been face-to-face with poverty, and I'm sure it won't be my last. We were making our way to the river bank, where a small concrete and mesh structure is home to 'Las Gratas,' one of our children's programs within La Carpio. The children come in three sessions for games, a snack and a Bible story each week. A simple set of activities that draws them by the dozens. The older ones stood around outside, some carrying baby siblings, as others ran barefoot, or toting barrels full of water.
As I positioned myself in the corner and began to take notes, one little boy – no more than 3 – waddled over to me with his coloring masterpiece. He showed it to me, proud, and chatted away to me in Spanish. I smiled.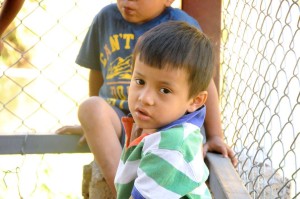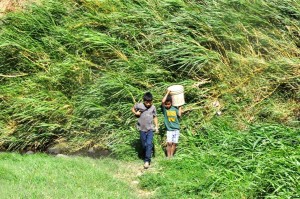 An older boy stood nearby. His hand was badly burnt and covered in coffee and toothpaste. His parents wouldn't take him to the clinic, and this was their remedy.
The kids pushed and shoved one another, squealed and played jump rope in falling-apart shoes, and wiped their running noses on dirty clothing. Older children on the outside, clinging to the wire mesh and one another, called to me and motioned their mischief, trying to coax me into handing them juice and cookies before their turn.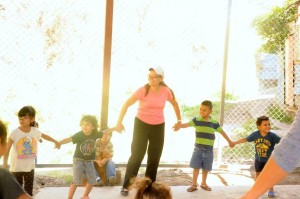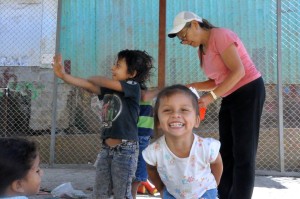 There were shoes with holes, and Toms shoes without them. There were unsupervised children everywhere, and signs of nasty and nice behavior all around. There were shy, quiet kids and loud and in-your-face ones.
Kids growing up in this community have an almost non-existent chance of getting any form of work outside of construction. No matter their dreams, talents or work ethics; this is the truth. The smell, the garbage and the dirt didn't bother me as much as this fact, and the question …. Why? Why not me?
Why was I born into a home with my own bedroom, when these kids, without outside assistance, will never know such luxury? Why was I able to go to university,and travel the world, when they are hardly able to leave the bounds of their community?  Why do I hoard a closet full of perfectly good shoes that I simply don't like anymore? Etc, etc, etc, why, why, why.
La Carpio is, in many ways, a perfect poverty storm. It is the city dump. The largest slum in Central America, it measures just over 1 mile in diameter but is home to around 40,000 people. 20,000 of these are children.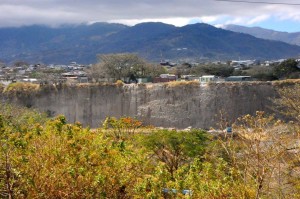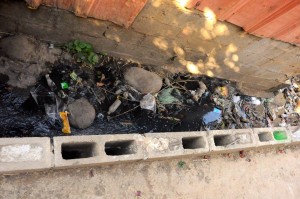 Cramped conditions lead to many family members sharing small spaces. This means a lot of things.
It means the spread of disease, and it means that children are exposed, from the youngest of ages, to sexual activity. This has led to staggeringly devastating statistics of incest and sexual abuse. Our missionaries in La Carpio believe that up to 90% of girls have been sexually assaulted by their 12th birthday, and probably an equal number of boys. For many, the abuse begins as young as 1-2 years old. This, of course, has led to epidemic of teenage pregnancy, and very young, single mothers, not to mention STDs.
There is only one primary school (K-6th grade) for the 20,000 children, which means that three school shifts take place throughout the day. Within these 3-hour time slots there are three breaks, meaning that children only attend school for around 2.5 hours. This, in turn, means that upon primary school graduation, the children only have a learning level of 2nd or 3rd grade, putting them at a severe disadvantage to attempt any high school classes.
There is no high school for them to attend within the slum, and so only those children whose parents can afford the bus fare out of the area have the privilege of going in the first place. What's more, there is a law in Costa Rica prohibiting children under the age of 18 from working; which means that many children, thousands of children, who have a very low level of education, cannot go to high school, and are not allowed to work.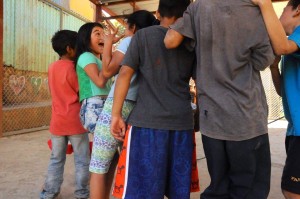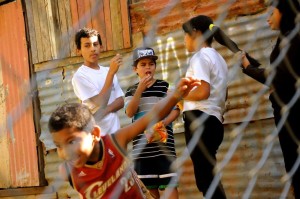 As you can imagine, having thousands of not-working-or-attending-school children running around a 1 mile radius has led to all sorts of other troubling issues, like gang activity, rampant drug use and violence.
See what I mean by the perfect storm?
These children are born into poverty, into systems of poverty, and are, in many ways, churned out as products of poverty without any other option. What can change, and what choices do they have?
There are many other layers. Like hunger, the disintegration of the family unit, and the fact that most people living in La Carpio are from Nicaragua, and are there illegally. This excludes them from any government assistance or healthcare, leading them to care for themselves, and to fear. This leads to toothpaste and coffee on burnt little hands, and a myriad of other social issues.
Poverty is a lack of money. It is dirty streets, and no clean water, and houses tied together with rope, metal and cardboard. It is families living under one roof, and preventable disease spread, and no access to education, and hopelessness and very little chance to better your life. It is generations of international disputes, migration, immigration, war and desperation.
Those who can afford to move out do, and the impoverished remain.
I hated the fact that I worried, because these are people. These are poor, incredible, smart, creative, thoughtful, talented people. I felt disgustingly materially wealthy, and ashamed of our circumstantial separation. I felt like I represented everything that was outside the realm of their possibility, and it hurt my heart. I never want to be one of the people that know the reality of the world, but do nothing about it except for hold my bag more tightly, and manage my blessings more desperately.
The answer to the problem of poverty is a whole different ball game. A whole "Olympics," perhaps, of many different sports. I know the answer will take a whole lot of global cooperation, baskets full of compassion and selflessnesss, and most importantly, a mighty movement from the Lord.
I do believe it's possible. For, among the dirt and devastation, I also got to see so many little glittery, hopeful solutions.
For example, the little kids' shoes. I couldn't help but notice the Toms side-by-side in line with the worn and hole-filled ones. Such a simple (and by no means perfect, I understand) idea that in that moment, captured me. Here we were into the depths of the perfect poverty storm, and one little child could run around freely, and the other could not. That's something good.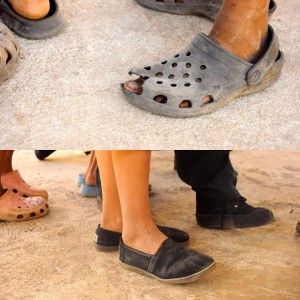 Our ministries in Costa Rica also blessed me hugely, and blew me away.
In the slums of La Carpio, CFCI has a medical clinic (for all those who cannot attend the government clinic), a community center (in which we run Bible studies, a program from the elderly, and youth events), among others.  At our main location there are four huge programs:
New Horizons: this is a program for boys 8-18 who come every

Saturday

for sports and recreation, as well as during the week to play sports.
The Refuge: this is a program for girls, and every

Saturday

they have around 60 who come for fellowship and healing (related to issues such as sexual abuse and bullying).
The Institute: an educational program, similar to a high school, where kids can come and have the opportunity to learn and complete their classes. After noticing the children lethargic and unable to concentrate, the program now also includes the provision of breakfast and lunch.
Vocational Training: we offer vocational training in baking, carpentry, sewing, English classes, and soon-to-be training in cosmetology.
We also have a daycare for children of the teenagers in the programs, and scholarships for the children who cannot afford the minimal fees to attend. Because of God's work in La Carpio, over 20 students are now attending university, studying in trades, as well as to be civil engineers, nurses, nutritionists and physical therapists.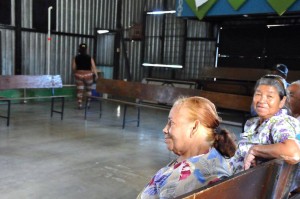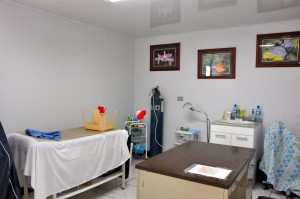 In January we took a record number of these kids (198!) to camp for a few days, to get away and have fun, worship and learn about the Lord. For most of these little ones, camp is the only opportunity these children have had in their lives for three meals a day, and a bed and blankets of their own. It's a really big blessing, and 50% came to the Lord.
"We try to think like Jesus," says Rocio, our director of programs in the slum, "helping people with education, and with their hunger. For example, with the soccer program, we don't care if they are good players, we care about how they are as students, sons, brothers and people in their community. When they finish we want them to be people who will help others, people who are accepted in God's eyes."
When they go on camp, the kids are taken out of their comfort zone, which – Rocio rightly says – is the best way to facilitate change. The same is true for me.
I was out of my comfort zone, in world entirely different from my own, and it changed, and changes me.
This is an invitation for you to do the same.
We at CFCI delight in matching your passions with global opportunity. Want to come with us to La Carpio as an individual or as a team? We would love to have you, and they need a lot of help.
They need people, short and long term.
They need construction workers, others to raise finances, and others to teach English.
They need experts on solar panels, they need laptops, medications, medical equipment and mattresses for the daycare.
They need a new building to serve more children. They have the teaching resources, but not the space.
We live in a dark world, friends. But,
"You are the light of the world. A city set on a hill cannot be hidden. Nor do people light a lamp and put it under a basket, but on a stand, and it gives light to all in the house. In the same way, let your light shine before others, so that they may see your good works and give glory to your Father who is in heaven".
I see the darkness. I see the light.
Let us be the light in the storm!