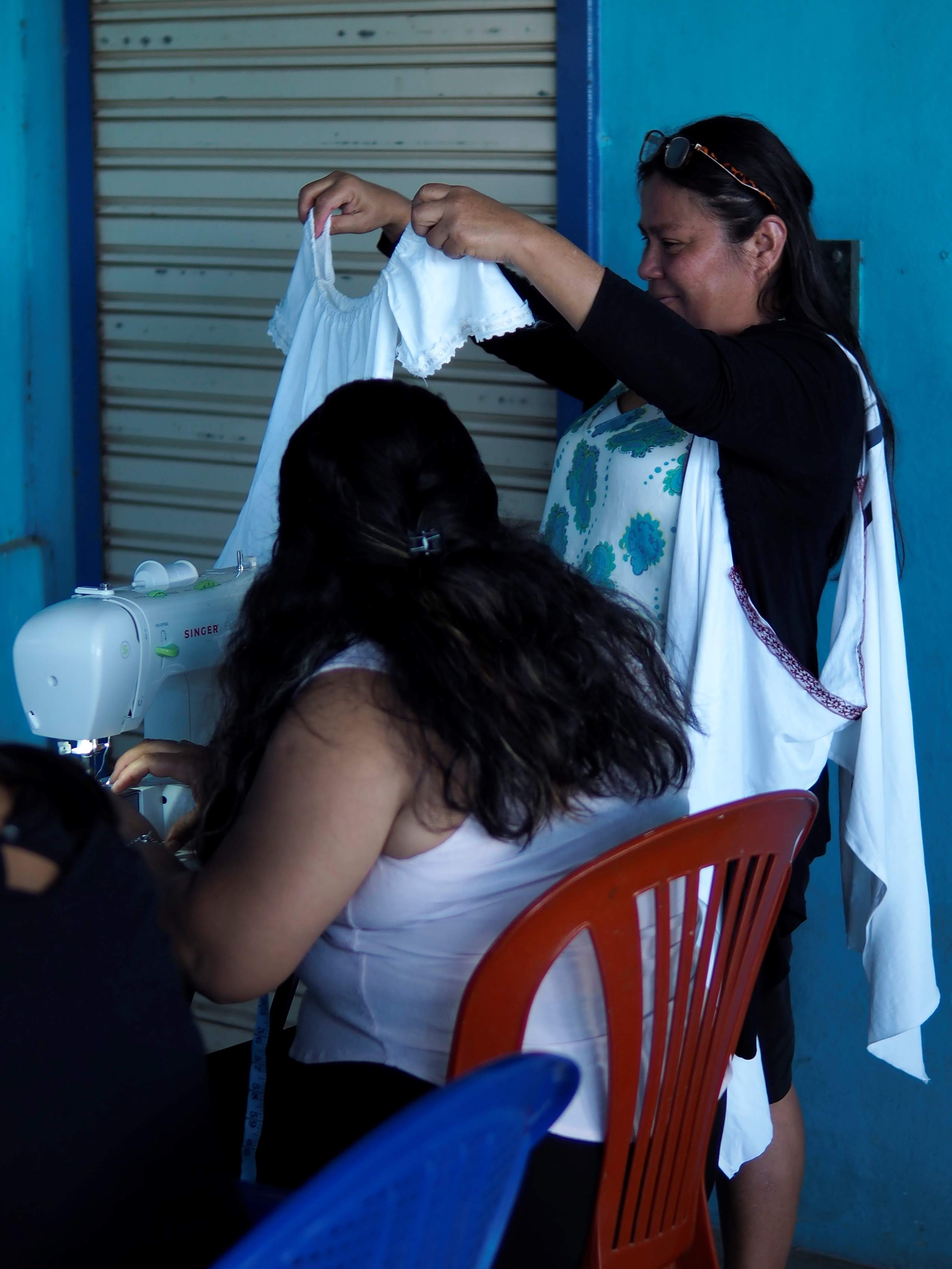 T-shirt Decorating Contest at Renuevos
It began as a sewing club ministry for girls (Costura para Chicas), but, little did anyone know that in the years to come, it would blossom into a three-year-long, rigorous program at Renuevos (a Christ for the City International site in La Carpio, San Jose, Costa Rica). This is just another of the many amazing and beautiful things that God has done through Christ for the City International in La Carpio, one of the poorest areas in San Jose. CFCI has been present and serving in this area since the 1990's, and currently runs five sites in service to the community.

The sewing club for girls (started by Doña Damaris Estrada) was a way to reach out to the girls in the area in order to introduce them to the love of God, and, at the same time, to provide a place of refuge, away from the violence so prevalent in the area. One of the graduates from this program was Lorena Mejia Rauda, who is a long-time resident of the La Carpio and a CFCI volunteer since 2003. Doña Lorena branched out with her own sewing class where students made small ornaments and garments such as aprons that were sewn by hand because there was no sewing machine available to them. Gratefully, sewing machine donations started to come in; and now, the sewing class has seven sewing machines at their disposal. As the years passed, the curriculum evolved from a hobby class into a three-year-long, intense sewing program that meets on Saturdays for approximately five hours of instruction and hands-on-training.

In the early years, the sewing students were primarily teenagers, but as the program grew, admission was opened to women of all ages. This year, there are five teenagers and four adult women (ranging from 14 to 45 years of age). There are no fees charged for instruction time since Doña Lorena donates her time; however, students pay 1,000 Colones ($2) per lesson. The money collected is used to buy some of the materials used in class. CFCI does provide Doña Lorena with sewing supplies but she still has to purchase additional supplies not covered by CFCI. Doña Lorena, who has approximately 18 years teaching experience, reminisces, "Through the sewing ministry, I found spiritual and emotional support. And also fellowship! I began to learn about God and his love for us and about his patience for us. Before, I was a person with a hard, impatient character. But now, my students come to me with their problems and God has given me the patience to listen to them and to empathize with them in their pain."

In an effort to highlight and to celebrate the many advances and achievements of the sewing program, a T-shirt Decorating Contest was organized. The goal of the contest was to motivate the students and to promote the use of recycled materials in the sewing projects. Doña Lorena explains, "You do not need new materials all the time, you can also use recycled items to make something beautiful and unique."

Early morning, on Saturday, August 4, 2018, the contestants gathered in the Sewing Shop. Doña Lorena proceeds to give instructions to the participants: and two hours later, the t-shirts are ready for the runway show. Each contestant proudly models their unique creations before the judges. First Prize went to Doña Yamilette Sandoval, Second Prize to Doña Gabriela Sandino and Thirst Prize to Leonarda Ordoño.

As the T-shirt Contest came to an end, Doña Lorena stated that she hopes, in the future, to continue teaching sewing and to open a site equipped with plenty of sewing machines where women can come and rent the sewing machines to work on their projects (many women do not have a sewing machine at home). Also, Doña Lorena hopes to provide daycare as well, since most of the women are single mothers with very limited resources and are not able to pay for daycare for their children. However, of immediate need are fabric donations, preferably large pieces of fabric because most of the fabric donated tends to be scraps which are too small for the type of garments that the class produces. Also, financial donations are needed to cover sewing machine repairs and other pressing needs.

Currently, Doña Lorena's sewing program is the only program that has stood the test of time at Renuevos (unfortunately Baking and Carpentry closed down after being opened for only two years). Please help and join Doña Lorena soldier on serving the women of La Carpio by donating to the Sewing Ministry, care of Doña Lorena Mejia Rauda, in La Carpio, San Jose, Costa Rica.