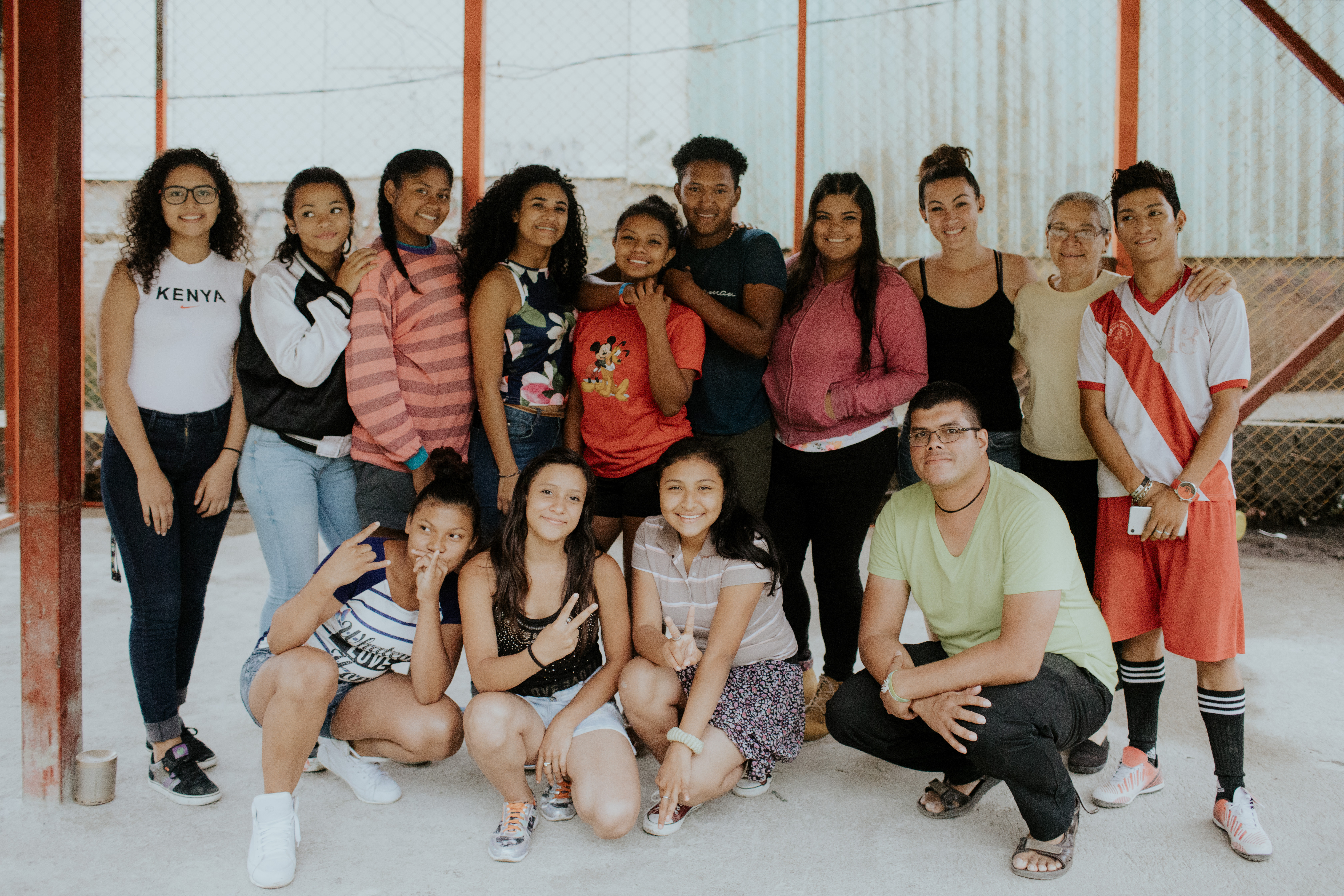 Las Gradas Project
The community of Las Gradas (The Steps) in La Carpio, San Jose, Costa Rica surely lives up to its name. Set up on a steep slope facing the Virilla River (one of San Jose s most polluted rivers), Las Gradas is an agglomeration of wood and zinc shacks of various designs and precarious positions. There are no streets, only long stretches of steep steps and narrow pathways which run parallel the open sewer ditches, all leading to the riverbank below. And it is here where ´ the poorest of the poor´ live.

Doña Marielos Ramirez Ulloa, who has served for the past 18 years in La Carpio with Christ for the City International, has known the area for some time; and in 2015, she decided to start a ministry for young girls in Las Gradas. She began meeting with a group of girls once a week at a local church for ministry and crafts activities. Quickly, the group grew to include boys; and then, a ministry for teenagers was started. Due to the large number of kids and teens (about 60) that attended regularly, a larger site was needed; the only free patch of land available was a garbage dumping area at the riverbank. With the approval of the Las Gradas Neighborhood Association, Doña Marielos was allowed to lay claim of the dump site.

Volunteers helped clean and clear the area; but the kids were exposed to the sun, wind and rain. A roofed structure was needed. Thanks to various volunteer groups (especially from Michigan), the site was fenced off, paved and a second story with restroom and kitchen facilities was completed in March 2017. Unfortunately, by September, Hurricane Nate passed through eroding part of the foundation and the building was declared unsafe. For months, the ministries had to meet in a local shack and faced great limitations. And again, thanks to concerned volunteers and donations, costly building repairs and reinforcements were made and the site was reopened in April 2018. Doña Marielos smiles and states, ´It hasn´t been easy. We have had to make with very little, but God has always been faithful and has provided for us. We have also been robbed three times! Pots and pans, a computer, soccer uniforms, games, art supplies were taken. But we are still here and growing.´

In just a short, brisk walk through Las Gradas, one quickly becomes aware of its many needs. As stated above, this is where ´the poorest of the poor´ live, in an ocean of visible and invisible difficulties. Most adults don't read and write, some don´t speak Spanish well (there is a small indigenous Miskita population, originally from the Nicaraguan Caribbean coast), few are gainfully employed, living quarters are overcrowded, sometimes 8-10 persons in a small shack, women often suffer domestic abuse in all its forms, there is a high incidence of drug/alcohol abuse and incarceration in men and women, all of which feeds the fires of misery. But the saddest of all are the children who are guaranteed a future much like their parents or much, much worse. Doña Marielos stresses that if the chain of destruction is to be broken, it must start with the children and teens in the area by the spiritual transformation that only Jesus Christ can bring into their broken young lives. Doña Marielos states, ´´Here in Las Gradas, the sexual abuse of both girls and boys starts at 4-5 years of age, which makes teaching sexual abuse prevention to pre-school children imperative. Sexual promiscuity and experimentation begins at about 12 years of age, often resulting in unwanted pregnancies. Addressing issues such as sexual education and birth control practices are important goals for the children and teens ministries.´

In Las Gradas, sexual promiscuity and sexual abuse, domestic violence, femicide, unwanted pregnancies are links in a chain that keeps people captive and incapable of breaking free. These patterns of behavior are so ingrained in people's minds that they are seen as ´normal´ and, thus, accepted. It is this type of distorted mentality that Doña Marielos and the CFCI ministries struggle to change every day. Doña Marielos explains, ´´My primary goal is to change people's mentality and their traditional ways of thinking. Women, girls and teens think it is normal to be sex objects and to be mistreated by men. In addition, women face many challenges such as crime, violence, mental illness, hunger, poverty, unemployment, ignorance, misguided beliefs and superstitions, to name a few. We are just starting outreach activities for the women. Recently, we had a group of women lawyers come to the community to talk about legal issues relating to women's rights and immigration law. Seventeen women attended. One of our greatest desires is to start a men's ministry here in Las Gradas. We need men of faith to come here on a regular basis and begin reaching out to the men of Las Gradas who are often the greatest offenders, abusers and promoters of so much pain.´

A major health-related concern is that the site where the Las Gradas Project building is continues to be used as a garbage dump by some of the residents, even though there is an official garbage collection site uphill, near the main road. Refuse collects regularly close to the building. When it rains and the Virilla river swells, some of the garbage is carried away by the river or the bags break and litter the riverbank on both sides. During the summer months, the refuse piles up and it becomes a distressing source of flies, rats and stench. Doña Marielos hopes to develop a program to encourage residents to take the garbage to the official collection site and not to the riverbank below. Also, due to the recent political unrest in neighboring Nicaragua, where most of La Carpio residents come from, La Carpio is experiencing an influx of migrants, some of which come to stay with relatives, but also, others that must squatter in what little space is left. Doña Marielos states, ´Over the past week, eighteen new residents have come to Las Gradas that I know of. There may be many more to come if the political situation continues to worsen in Nicaragua.´

Few would argue against Las Gradas´s nickname of being the place where ´the poorest of the poor´ live, fewer still would venture to walk its narrow, winding walkways and to descend the steep, pyramid-like steps leading to a place where everyone must find a desperate way to survive. Yet, among the darkness, volunteers come to serve and to love this community and they leave their footprint by the riverbank. They have brought hope to the hopeless and brought the greatest gift a human being can receive, salvation in the name of Jesus Christ.

Please come and join the ministries in Las Gradas. Everything is needed, from donations to devoted Christian workers. Come and leave your own footprint at the riverbank, in the name of Jesus Christ.