Today's post is from Barbara Rowe, our missionary in El Salvador:
"Thank you for not forgetting about us!"
Fernando says this just about every time I come to give the English class in the Punto VAR youth center.  It is located in one of the most dangerous places to live in El Salvador these days, and growing up there is stressful.  "Balaceras" (shoot outs) are all too common in the community.
The neighborhood is the stronghold of the 18th Street Revolutionaries, known for their brutality and wide-reaching power.  In late July of last year, this gang forced a public transportation shut-down in the city, killing 9 bus drivers who chose to disobey, and causing an estimated $60 million in economic losses for the country.  These guys do not play around.
The kids at Punto VAR are constantly surrounded by gang members and gang activity, yet they choose to live a different life.  Many of them, as children, attended the annual Vacation Bible School put on by the mission church, and a good number of them are in my weekly English class.
"We feel as if we are under house arrest," the kids once confided.  "We can't go out of our houses very much, and we can't take the bus into town since it crosses over another gang's territory."
I think this is one of the reasons they are so faithful in coming to my class.  I regularly have 12 or more, and I try to make learning fun.  Recently I purchased 3 Scrabble games and a couple of Boggle games at a local used goods store.  The kids have a blast trying to form words in English, and the center fills up with laughter and lively banter.
This year I have a new crop of students attending, 10-year-old beginners who are just learning to pronounce the words "giraffe" and "turtle" and the names of other animals and insects.
At the end of class we study a Bible verse in English.  We go over the meaning and pronunciation, and then I allow them to speak in Spanish, to share their ideas about what the verse means, and what we can learn from it.  I often pick a verse related to God's protection, as I feel it comforts them to know they are not alone in facing the dangerous world in which they live.
I have to admit that I have fallen in love with these kids.  I enjoy being with them, encouraging and teaching them every week at the youth center.  To me, this is what it means to be the hands and feet of Jesus.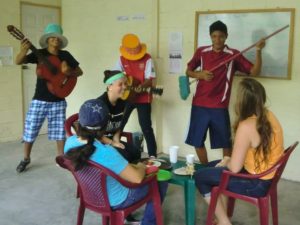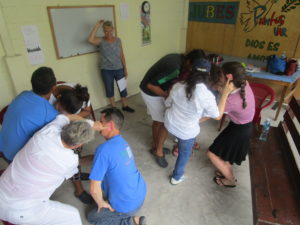 If you would like to support Barbara's Ministry please do so by donating via here.