I spent three years at university essentially answering the question, 'Why are some people rich and others poor?'
A degree in Development Anthropology and Cultural Change taught me a lot about the world, as we answered the questions of what is poverty, and can anything be done?
The answer to those questions is a lot of things. Poverty is a lack of finances, absolutely. Almost half the world, billions of people, live on less than $2.50 per day. That is poverty. But poverty is more than that. Poverty is complicated. Poverty is a lack of choices and opportunities. Poverty is not being able to go to school, or receive healthcare, or drink clean water, or eat nutritiously, or change in any way the circumstances of your life. Poverty is in many ways a 'stuck-ness' beyond one's control.
But what can be done?
The vast majority of our ministries here at Christ For the City International are focused on meeting the needs of the world's poor. We work in slums, villages, cities and communities that are rampant with the causes and realities of impoverished life. We bring education, health care, hope, day care, rehabilitation, programs, resources, organized sports, food, construction, prayer and so much more as a means to meet people where they are stuck, and introduce them to the true freedom only found in Jesus Christ.
This past week, we had the incredible opportunity to do just that, to meet needs practically to transform lives eternally in Nicaragua.
For many children of poor parents in Nicaragua, education is an uphill battle. Although the schooling itself is free, without a uniform, books, or supplies, children struggle to learn, and face shame and embarrassment in front of their classmates. Not being able to afford a uniform is an outward sign of their families social standing, and without books or pencils, retaining or learning information is very difficult.
This is why we began and maintain the Hope School Program (Escuela Esperanza), who this year adopted a small elementary school in a low- income area of the city.
"I say small because there are 7 classes," writes Lisa Miller, Director of the program, "however, class sizes range from 35-50 students. During December we received many donations of uniforms, school supplies, and funds to purchase needed goods here in Nicaragua. Among these donations, we were overwhelmed by the response of Walnut Creek Mennonite Church in donating over 70 pairs of children's shoes, and many packets of supplies as well. Thankfully, a team from Maple Grove Church graciously helped out by bringing 3 additional suitcases full of items that we could not bring ourselves. During January, with the help of Meylin, Claudia, and Moises, we purchased the remaining uniforms needed at one of the local city markets, prepared each child's uniform packet, and prepared the shoes for distribution."
In addition, 11 teacher packets were put together, and the date for distribution was set for February 9th. Everything was on track until the program hit a wall.
Although a legal agreement with the government has been in process for 8 months, a little over a week before the scheduled distribution date, permission still wasn't granted.
The team, choosing to trust in God's provision, sent out a plea for prayer and waited patiently and expectantly for God to answer.
"On Wednesday, February 10th, one day after the original date for the distribution event, we received a call from the government giving special authorization to hold the event at the school in just two days. What's more, we were told that some of the government officials we had been working to contact would be joining us at the event! These included the director and her right hand official of the Office of External Cooperation, and both the district school delegate and sub-delegate as well. The school system in Nicaragua is organized with a very specific structure, so it goes without saying that this was a very big deal, and a huge step forward for us! We praise God for opening this door and for the extra blessing of the attendance of the officials, who would see the Hope School Program in action with their very own eyes!"
The "wall and the wait" was preparation ground for great, abundant blessing.
Then, on Friday February 12th,
"Amid gusts of wind and clouds of dust floating through the corridor packed with children, parents, and teachers, our CFCI team distributed school supplies, uniforms, and shoes to the excited families. It was a pleasure to be able to share in the presence of all, that these donations were being offered as an expression of Christ's love, because the Hope School Program's mission is 'Offering hope and changing lives through betterment in education and sharing the love of Christ.' Thank you for being a part of sharing God's love with each family and child that has been touched by the program! There were many smiles and 'thank yous.'"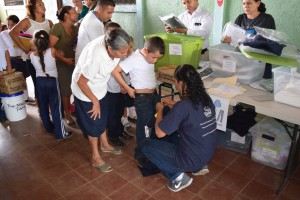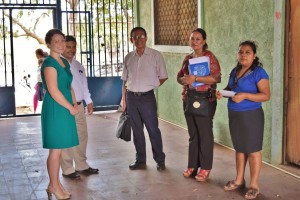 Students each received a package of school supplies, 8 notebooks, a shirt, an undershirt, pants or skirt, 2 pairs of socks, and a pair of shoes.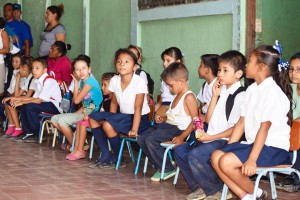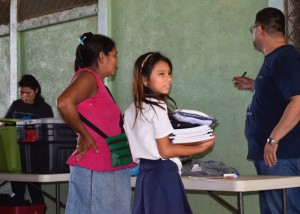 Poverty is not simple. Poverty is lack of finances, and lack of opportunities to improve your financial situation. Poverty is not having enough money to buy school shoes, or send your child to school without stigma, and shame. Poverty is millions of children going without an education, and being unable to better the lives of their future generations. Poverty is steeped in history, global economic and geographic systems, corrupt governments and complicated maps of greed and resource distribution.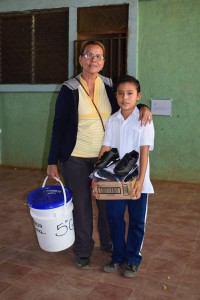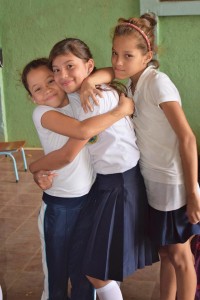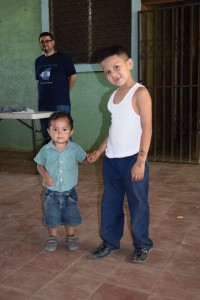 Poverty is not simple, but the answer is. The answer to the question of poverty is the same answer to every question as a Christian: the answer is Jesus. The answer is love. The answer is giving out of our material abundance and providing practical education, to provide school shoes, to provide self sufficiency, to provide a practical avenue for love, and a ladder of opportunity out of poverty and into the freedom and love of a great, blessing-giving God.
"Now to Him who is able to do immeasurably more than all we ask or imagine, according to His power that is at work within us, to Him be glory in the church and in Christ Jesus throughout all generations." (Ephesians 3: 20-21)

Rebecca Isaacson

beci@cfci.org