"Poverty keeps you a prisoner," Damaris told us.
We were sitting in CFCI's building in Pavas, a large and multi-purpose structure used for many different kinds of ministry. As we walked in, we saw tables lined with arts and crafts. Fine quilts, stitching, bags and clothing, a buffet of handmade products, and the source of Damaris's smile.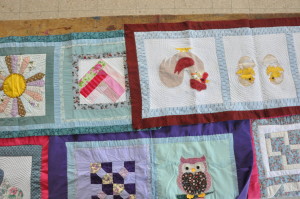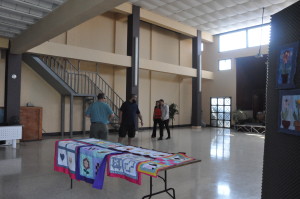 Damaris is one of our missionaries in Costa Rica, and she is truly an incredible woman. For 25 years she has been giving of her time and resources to reach women, the least and the lost in the slums of Costa Rica.
She runs The Art House; a ministry which teaches craft and sewing skills to struggling women. Under her guide, hundreds of women have been trained and up-skilled. Women come to The Art House desperate, hungry, and without an education.  They leave loved, with an employable skill, and the knowledge of the Gospel.
Meeting their needs is both very simple, and very complicated.
They are financially and materially poor, mostly born into impoverished, violent communities and without an education. These women, through no fault of their own, are void of any way to provide for themselves and their families. Having these employable skills has allowed for 13 shops to be opened, and many of these women have gone on to teach others all over the nation. A blessing and training multiplication.
As the women come hungry, Damaris also provides them with something to eat. Out of her own pocket and limited missionary support, she provides for these women nutritionally.
She shared with us how some women, in their 60's, come in crying and ashamed of themselves as they were never taught to read or write.  Beautifully, Damaris demonstrated to us how she teaches these women to sew, sneaking in a hug when doing the chest measurement, and taking every opportunity to communicate worth.
"It's about taking these women out of darkness, and into the light of Christ".
Everyday Damaris travels more than 2 hours by bus to meet with these women. She carries all of her supplies, and the food, by hand, and has been doing so for many years. Hearing her story I was reminded of Matthew 16:24:
"Then Jesus told His disciples, 'If anyone would come after me, let him deny himself and take up his cross and follow me.'"
The women in the area lack hope and community. And so Damaris shares with them her faith, her prayers and her ministry with devotions and Bible studies in each class. The Art House is a safe place for women to come, share, experience love and receive ministry.
"Many, many times we have to stop the class and take a lady outside to pray for her," says Damaris. "Many times they ask for something to eat, as they have nothing in the house. Many are in domestic violence situation.  This is not so much about teaching, as it is about loving."
Damaris is an incredible example of loving extraordinarily well.
How do you transform cities? How do you transform lives?
We work in 16 different countries. 16 countries filled with millions of people. Each people group, each nation, each culture and each person has their own set of difficulties, struggles, challenges and needs.
Many of the people that we work with are poor and in desperate life situations, just like the women of Pavas, Costa Rica, where Damaris spends most of her time.
We know that their greatest need is Jesus. We all need Him, as He is everything. He is the only One who can truly heal or save our lives. He is the One Who can transform both lives, and cities. But how do we introduce Him to the millions?
The answer to that question takes 92 different forms for us. We have 92 different ministries around the world, which are, when we come down to it – as Damaris said – really about loving people in His name. Loving them into the Kingdom of God.
We teach women sewing. We have an orphanage, a medical clinic, and programs for the elderly. We run youth group, crusades, feeding programs, homeless outreach, educational support and rehabilitation centers. We have training ministry for women, men, pastors and church groups. We take kids to camp, have sports programs, and day cares. We teach vocational skills, and Bible studies and music classes. We do ministry through art, including mime and dancing. We evangelize and teach the Bible. We work in schools, hospitals, clinics and the streets. We do all of this, and so much more.
And yet we don't teach sewing in order to master quilting skills, and we don't teach soccer in order to win the World Cup.
In La Carpio for example, the largest slum in Central America, we have a soccer program for the boys.
"We don't care if they are good players," says Rocio, director of the program, "we care about how they are as students, sons, brothers and people in the community. When they finish the program we want them to be people who will help the community, and people who know they are accepted in God's eyes."
The heartbeat of everything we do all around the world here at Christ For the City International is Jesus Christ. We have been saved and changed by Him in incredible ways, and we work hard to pass on that truth and that life, and life to the full (John10:10), to as many people we can, as passionately as we can, for as long as we can. Jesus is worth it.
We meet practical need. We see and love people where they are at. We travel two hours into violent places… to sew. In the name of Jesus. For the Glory of Jesus.
Damaris introduced us to Alexandra. A mother with three children, who, when she first arrived, was ashamed to even be touched or hugged. Now, she teaches others to make dolls, pants, quilts and clothing in La Carpio. Her training has allowed her to not only financially support her family, but make her children's school uniforms to save extra cash. She was given the opportunity to finish high school for the first time, and has now signed up to go to college.
"I was extremely shy, and now I'm an outgoing person."
Damaris asks for prayer, and for resources. There is an abundance of need. Financial support is needed for bread and coffee, and sewing machines. The ones they are using are over 30 years old, and are not in good working order. Do you have a used sewing machine that you could donate to The Art House? Sewing and craft materials are always in short supply. And women!  We need women who want to come, help and teach classes.
Rebecca Isaacson
beci@cfci.org